Welcome to the Official Site of Dermaide® Aloe Cream:
The Breakthrough Solution Developed by Physicians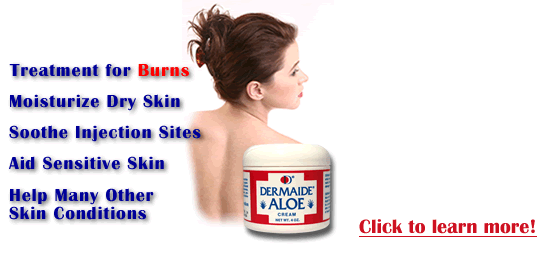 Don't be swayed by imitation creams or gels. When you need fast relief for a burn, or simply a great moisturizer to soothe dry skin, trust the original Dermaide® Cream. You won't find this formula in any other products.
Developed at the world-renowned University of Chicago's Burn Center by plastic surgeons who needed a breakthrough treatment, Dermaide combines the ancient healing properties of aloe with a unique moisturizing base to heal and achieve healthier skin.

See for yourself. Order yours today!

Quantity discounts are available to distributors, nursing homes, hospices, rehab centers, retailers, hospitals, clinics, spas, beauty salons, etc. Call 1-800-344-ALOE (2563)
Copyright © 2006 Dermaide Research Corporation